Last night during the NU vs Mizzou game, before the Husker's comeback against the Tigers matched the largest fourth-quarter comeback in school history, there was quite a bit of tension among Nebraska fans.  Discussion involved talking about a "Big Red Brick" that one remembered from his college days – a red foam life-like brick complete with holes that one could throw at the TV when a bad play was called. So today after 27-12 win, I decided to see if I could find such brick for the next game.
Here's what I came up with so far…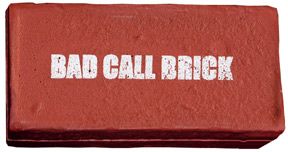 Amazon offers several Bad Call Bricks for sale.
Now I'm considering ordering my own Corporate Logo Foam Bricks to promote this very Husker website and hand out – who would want one??
Get our your frustration on a bad call with our Football University Bad Call Brick! This 7 inch by 3 inch by 2 inch brick will help you cope with any sore feelings. Sold 1 per pack.
Red Dimensions: 7 1/2 x 3 x 2 High quality decorative for festive occasions
When all you can do is rave and rant, you'll at least have the bad call brickThis foam red brick is great for Game Days & Super BowlFor indoor or outdoor useDimensions: 2"H x 7.5"W x 3"LMaterial (...