2015 Nebraska Husker Football Schedule & Win/Loss Predictions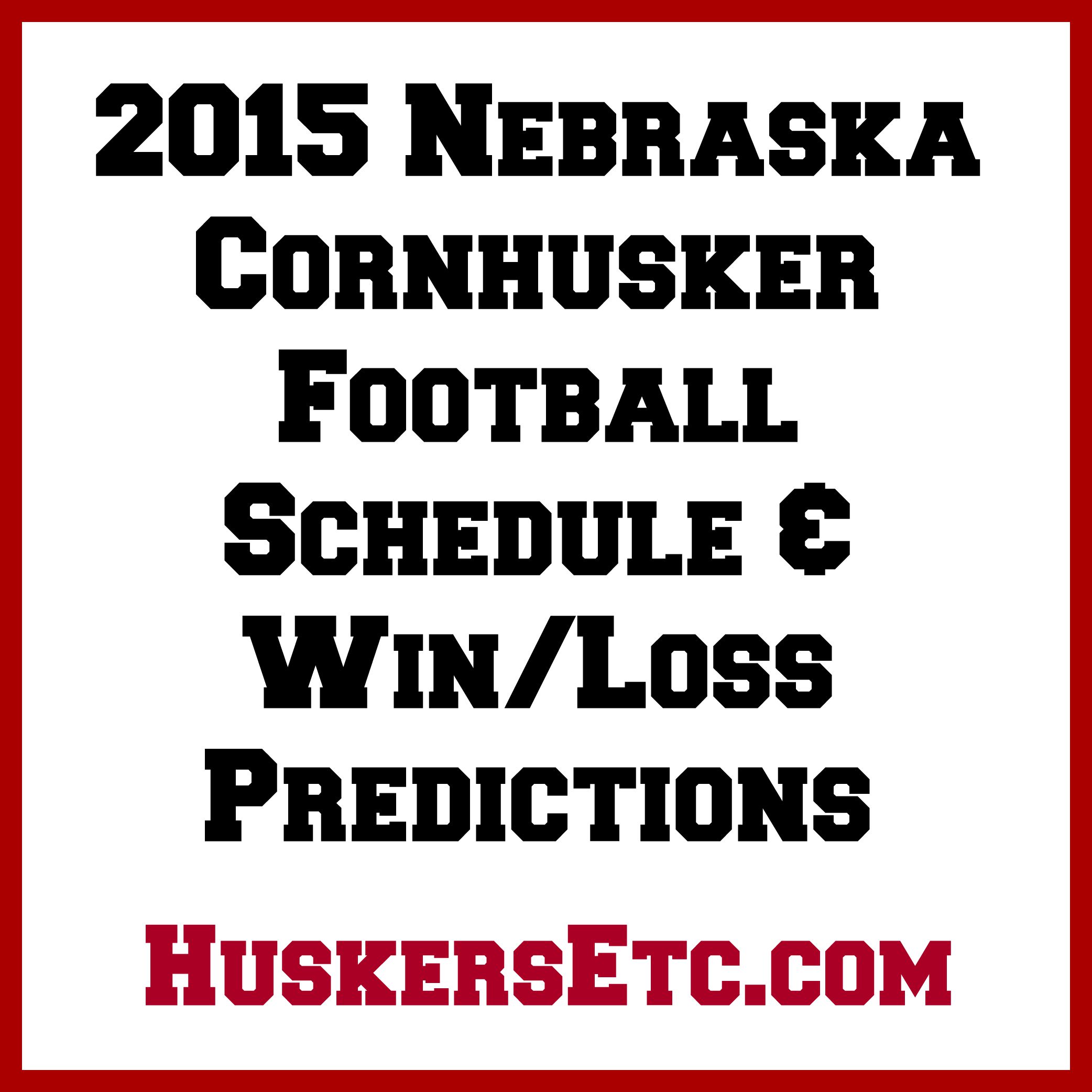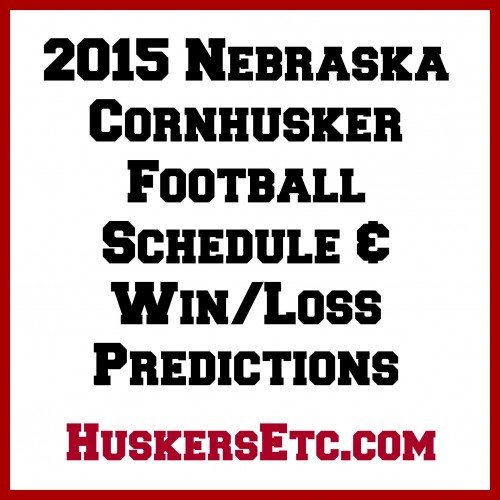 It's about that time to start scheduling the rest of our year around Husker football games! Jimmy Boyd of BoydsBets.com also recently asked us how many wins we think Nebraska will have in the regular season this year. So this year, we decided to include our Win/Loss predictions in our annual Nebraska Cornhusker football game schedule for 2015…
| | | |
| --- | --- | --- |
| Game Date | NU Opponent | Prediction |
| Sat, Sept 5 | vs BYU | Win |
| Sat, Sept 12 | vs South Alabama | Win |
| Sat, Sept 19 | @ Miami (FL) | Loss |
| Sat, Sept 26 | vs Southern Miss | Win |
| Sat, Oct 3 | @ Illinois | Win |
| Sat, Oct 10 | vs Wisconsin | Win |
| Sat, Oct 17 | @ Minnesota | Win |
| Sat, Oct 24 | vs Northwestern | Win |
| Sat, Oct 31 | @ Purdue | Win |
| Sat, Nov 7 | vs Michigan State | Loss |
| Sat, Nov 14 | @ Rutgers | Win |
| Fri, Nov 27 | vs Iowa | Win |
The Big Ten Championship Game will likely be versus Ohio State, and I am predicting that a loss as well.
Mike Riley will have some growing pains on the offensive side of the ball by transitioning to a new offense…if he chooses to do so! I believe that Riley will adapt a scheme that still suits the husker spread power running personnel he is working with. Tommy Armstrong may have had his issues last year but with an actual quarterback coach in Danny Langsdorf as offensive coordinator and game experience under his belt he should be able to cut down the husker turnover ratio.
As for defense, the blackshirts will scrap Pelini's 2-High safety and 2 gap 4-3 for Mark Banker's  quarter coverage attacking scheme. The last sentence may sound complex so I will put it into layman's terms. Pelini's scheme was built to ALWAYS prevent big plays from happening with heavy emphasis on the secondary and linebackers to make perfect reads and reactions with the defensive lineman having responsibility for two possible running lanes. Banker on the other hand likes to have each individual player attack one gap they are responsible for. Having an attacking defense can create turnovers and huge plays in the offensive backfield… HOWEVER this style of defense is susceptible to a "home run" type player who can take a ball to the house with one cut back on an uncovered gap.
The reasoning for my win/loss predictions is based on Banker's defensive scheme versus opposing team's "home run" talent on their roster. The quarters coverage scheme will work wonders against divisional foes like Minnesota, Iowa, Wisconsin, etc.. that lack a game changing player. BYU will rough the huskers up a bit in the opener but the suspensions from the bowl game fight incident should allow the big red to secure the win. The two (three possible) losses are based on teams that have "home run" ability and just as much talent (or more) on their roster as Nebraska.
What are your Win/Loss predictions for the Huskers this upcoming 2015 college football season?