We just got new 2009-2010 Best of Big Red Catalog from Husker Video in the mail, just in time to gear up for the upcoming football season!  So, I asked my son (biggest Husker fan ever) if he could have any three items from the catalog, what would they be? And here's what he narrowed his favorite products down to…
Pelini Brothers Football Special limited edition ball. All black, glossy and with the Blackshirts logo. Bo and Carl Pelini's signatures are on the ball in silver. Each hand autographed. A defensive Collectors item! A must have for any Husker fan. Comes with a Certificate of Authenticity.
1999 Complete Season on DVD Includes all 13 game DVDs from the 1999 season including the Fiesta Bowl vs. Tennessee. He choose this because it was the first year he really started watching the Huskers play football and has been a huge fan ever since!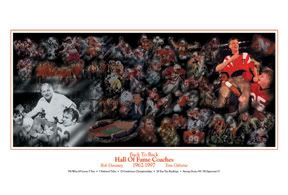 Back to Back Hall of fame Coaches Print Highlights games from 1962 – 1997, including 5 National Titles, 21 Conference Championships, 28 Top Tens, Average Score: NU 34 Opponent 13, and 2 Hall of Fame coaches. And this is an affordable Christmas present option for any Husker fan!