I think my friend's Facebook status sums up Saturday's Big 12 championship game…
We had a lot of fun, even though the last second of the game was the worst second of the game. And the stadium was super awesome!
Facebook has been buzzing with angry Nebraska fans after Texas was awarded an extra second which won them the game, 13-12.  But as my grandmother always says, we "can't stay mad, gotta get glad" and the following announcement is having us all happy…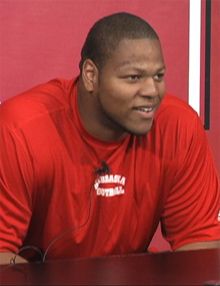 The Lincoln Journal Star reported today that Ndamukong Suh is a Heisman trophy finalist and invited to the Heisman presentation in New York.  The other finalists are…
Toby Gerhart, Stanford running back
Mark Ingram, Alabama running back
Tim Tebow, Florida quarterback
Colt McCoy, Texas quarterback
Go SUUUUUUHHHHH!!!!!