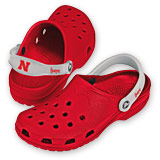 What a Croc for the Huskers!
It's about time Crocs released some collegiate crocs for the University of Nebraska!
Several other NCAA teams have been out for quite awhile.
Maybe it was our losing seasons that put us down on the Croc totem pole list.
But we're due to make a come-back now!
[compare q="nebraska crocs" gtm="on" l="6″ ct="US" v="list" ft="fetchProducts" w="auto"][/compare]